Delius - Double Concerto
Tasmin Little (violin), Paul Watkins (cello), Neal Davies (bass),
BBC National Chorus of Wales, members of Bristol Choral Society,
BBC National Orchestra of Wales / Martyn Brabbins (conductor).
St David's Hall, Cardiff, 1.12.2016. (PCG)
Review:

Seen and Heard
Little and Watkins bring Warmth and Precision to Unjustly Slighted British Works
The programme note for the Delius's Double Concerto for Violin, Cello, and Orchestra was provided by Tasmin Little herself, and she made a strong argument for the merits of a work over which, as she observed, "critical opinion has been varied". Delius's champion Sir Thomas Beecham abandoned the first performance to the baton of Sir Henry Wood, commenting tartly that the concerto "might be saved from oblivion on the condition that two gifted soloists took it in hand and subjected it to fairly ruthless revision." (One wonders why Beecham did not undertake such revision himself, since Delius was always pleased with the results of his editorial ministrations elsewhere.) My early encounters with the work on LP were not encouraging either. The music is not overly virtuosic in style, but it remains extremely difficult. Many passages feature the two soloists in octaves where the slightest differences in intonation are mercilessly exposed, and early recordings did indeed tend to expose them. But there were no such problems here, Little and her partner Paul Watkins always precisely in tune with each other and blending into a seamless unit without finding any need whatsoever to revise Delius's original score. They also blended perfectly into the orchestra, not spot-lit but forming a rapturous blend with the woodwind and reaching sublime heights of ecstasy during the slow central section. Here the music transcends any considerations of display or concerto form to produce an atmosphere that parallels nature poems such as In a Summer Garden or even the earlier Florida Suite. This performance was quite a revelation, for which I am exceeding grateful.
Paul Corfield Godfrey, Seen and Heard, December 2016
Szymanovski, Violin Concerto No 1
Tasmin Little (violin), Worthing Symphony Orchestra,
The Assembly Hall, Worthing.
John Gibbons (conductor).
REVIEW: Tasmin Little's Return – Worthing Symphony Orchestra concert at The Assembly Hall

An off-the-shoulder, full-length dress in glowing crimson, green, black and purple revealed itself as she took the stage from behind the violins. A woman born on a day in May ready to play a sumptuously sensual musical work inspired by a Polish poem called 'May Night", Tasmin Little was dressed for the evening's experience like a mysterious exotic bird. And often she sultrily played like one.
Poland's father of modern music, Karol Szymanovski has been invading Worthing's consciousness the past couple of years, and making the WSO sound like never before. Few of the WSO had ever played his Violin Concerto No 1, but these are among London's famously capable orchestral players. With one rehearsal under conductor John Gibbons they handled the task and created with Little a night to remember for its erupting sensuousness, of its woodland and lakeside tints and colours - and the profuse accompanying birdsong (eat your heart out Olivier Messaien!).
Much as Sir Simon Rattle did in the WSO concert magazine, Gibbons confided to his audience one delicious fact. "This music is simply about being in love," said Gibbons. "And when it's that, you know it's never all plain sailing - so just go with the flow." Little soared and glided among billowing clouds of brass and strings, and then stroked and soothed with brushes of clarinet and flute, and sweeps and ripples from the harp.
Exactly 100 years old, this Szymanovski piece ravishes his audience and Little, always intelligently, captured the frequent liberation of it all. Inhibitions long-shed in the big moments, her cadenza was the last of many enriching challenges to the imagination, after which Szymanovski deflates the tension and has the birds in his orchestra quickly and knowingly take their discreet leave of the steamy, now sleepy scene.
Tasmin Little's 20-year absence from The Assembly Hall stage ended on Tuesday evening thanks to Facebook. England's leading international female violinist read there that Scotland's half-Italian heroine Nicola Benedetti had launched Szymanovski's Violin Concerto No 1 into her repertoire via a performance with Worthing Symphony Orchestra in January, as her currently annual contribution to the town's classical music life.
Richard Amey, Worthing Herald, December 2016
William Walton - Violin Concerto
London Philharmonic Orchestra / Osmo Vänskä
London, Royal Festival Hall, October 28th 2016
Review: Tales of water-sprites, tarantulas and icy landscapes: the LPO's Sibelius cycle concludes.
London Philharmonic Orchestra / Osmo Vänskä
Nothing could have provided a stronger contrast to the opening work or indeed the two symphonies in the second half. Tasmin Little didn't just play the Walton violin concerto; she inhabited it. She took all the time in the world to voice the opening melody sognando, as indicated by the composer, and to explore with deeply expressive playing the rhapsodic qualities of a piece that eschews bravura for its own sake. This first movement is full of intimate, chamber-like music, with contributions from many individual instruments, all bathed in a mood of gentle tranquillity. Later, the contrasts between such delicacies and the vigorous interjections from the full orchestra were occasionally overstated by Vänskä.
The middle movement is quintessentially Walton: not only the marking – presto capriccioso alla napolitana – but also the characteristically spiky and unashamedly mischievous writing for solo violin and orchestra. While staying at his Italian villa Walton was bitten by a tarantula and he then decided to cast this movement in the form of a tarantella. Here, the brilliance of Little's fast passage-work was thrown into sharp relief by the ethereal sounds she conjured up in the slower sections, ably supported by the high-lying LPO winds. In the finale the interplay between the moments of lyrical intensity from the soloist and the increased momentum unleashed by the syncopated wind and brass was especially effective.
Alexander Hall, Bachtrack, 29 October 2016
William Walton - Violin Concerto
London Philharmonic Orchestra / Osmo Vänskä
London, Royal Festival Hall, October 28th 2016
Review: Towards the Horizon

,

London Philharmonic Orchestra / Osmo Vänskä
Following on, Tasmin Little made a splendid job of William Walton's Heifetz-inspired Violin Concerto. She's not a player to indulge, though there was plenty of seduction; nor does she show-off, yet there was no lack of scintillation. This was an integrated account – no sagging, no point-making – without curtailment of character and always emotionally committed.

The LPO and Vänskä offered an accompaniment that bristled with detail and compassion, and David Pyatt knows just how to float the alluring horn melody heard in the 'Trio' of the second movement. Whether languorous, bittersweet, edgy or sanguine, Little together with the LPO and Vänskä – the challenging technical matters nailed – reminded of the Concerto's individuality and greatness, effectively asking why these days it is not played more often. (Tasmin Little has recorded the Walton for Chandos.)
Colin Anderson, Classical Source, 29 October 2016
Out of this World
Tasmanian Symphony Orchestra. Tasmin Little, violin
Hobart, Federation Concert Hall, October 15
Review: Out of this World (AYO, TSO)

Tasmin Little then stepped on stage, donning appropriate attire for the night: a navy blue gown as dark as the sky, the hall's lights capturing a glittering constellation sewn into her fabric. She presented the Delius Violin Concert – a highly romantic work, though her face never betrayed the astounding expression she poured into every line and each wave of vibrato.

It was certainly a feat, clocking in at more than 20 minutes with scarcely a moment's rest for the soloist. The orchestra produced the perfect foundation for her – not once overpowering, though their lines often crossed paths. The work was warm, rich, and in stark contrast to the piece before – though for a concert titled Out of This World, it did offer an earthly, too-familiar romanticism. Still, a joy that took us into an interval.
Stephanie Eslake, October 18, 2016, Limelight Magazine
Tate & Little
Adelaide Symphony Orchestra. Conductor: Jeffrey Tate. Violin: Tasmin Little.
Adelaide Town Hall, October 8.
Tate & Little

Tasmin Little is a passionate conversationalist: throughout her clear and nuanced reading of Delius' Violin Concerto she moves backwards and between inviolable concentration and almost casual dialogue with whichever section of the orchestra takes her fancy.

The result is as good as you can get, and she extracts panoply of finely wrought emotions from her 1757 Guadagnini violin. Acclaimed principal guest conductor Jeffrey Tate provides Little with great support from the podium.
Kym Clayton, thebarefootreview.com, 10 October 2016
Tate & Little
Adelaide Symphony Orchestra. Conductor: Jeffrey Tate. Violin: Tasmin Little.
Adelaide Town Hall, October 8.
Tate & Little

With English compatriot violinist Tasmin Little on stage for Delius's Violin Concerto, things only got more interesting. People sometimes struggle with Delius — musicians and listeners alike - because his highly scented and eclectic language can offer little to hang on to.

Here was their answer. Little, who makes this concerto a speciality, has such ease, assuredness and poetic understanding of its every note that all its apparent unfathomableness disappeared. And rather than staying contentedly in the background, the orchestra was wrapped right up with her in all its intimate detail.

One relished the music-making. Little would pass a theme to one section of the orchestra and then to another, and she would take time in places with her amazing filigree-laden lines to accommodate the orchestra so members could all breathe together.


GRAHAM STRAHLE, The Australian, October 10, 2016
Tasmin Little
at the Australian Chamber Music Festival in Townsville, QLD, Australia
August 2016
Women stars shine in Townsville's AFCM
Stars in their own right, a quartet of women made a remarkable contribution to Townsville's recent Australian Festival of Chamber Music. British violinist Tasmin Little, double bassist Kirsty McCahon, classical guitarist Karin Schaupp, and soprano Valda Wilson wowed the festival's cosmopolitan, savvy audience....
…..Little, like Wilson, performed in some of the festival's trickier settings including the al fresco concert in Queens Gardens in front of 4000 people, who were sitting on camping chairs or spread-eagled on rugs. It wasn't the easiest of acoustics to manage on the open-air stage, supported by a well meaning Barrier Reef Orchestra, nor an easy crowd to win over but she bravely and persuasively soloed in Vivaldi's Concerto in E, RV 269 from The Four Seasons with all the chutzpah and prowess worthy of New York's Carnegie Hall.....
…..Little generously partnered pianist Andrey Gugnin, the winner of the Sydney International Piano Competition, in an infectiously dramatic reading of Beethoven's Kreutzer sonata but the crowd's ears were inevitably tuned in to Gugnin, who would go on to give a solo recital, rather than the astonishing virtuosity essayed on the violin.
The most rewarding of Little's many appearances were in a duo with pianist Piers Lane, because then her gorgeous tone, exquisite phrasing and compelling voice were exposed. These pieces included Kreisler's Praeludium and Allegro, Lloyd-Webber's The Gardens at Eastwell and Monti's Csardas.

Cut-Common - The new generation of Classical Music, August 18 2016

Tasmin Little and John Lenehan
INAUGURAL CONCERT - Hertfordshire Music Festival
11th June 2016
Tasmin Little and John Lenehan make inaugural festival a success
By Hertfordshire Mercury | Posted: June 18, 2016

It's not every day Hertford gets to stage a recital by an internationally-acclaimed violinist; and what a delight the inaugural concert of the Hertfordshire Festival of Music turned out to be!
Tasmin Little and pianist John Lenehan eloquently demonstrated the kind of synergy that only three decades of playing together can produce.
The concert, at All Saints' Church on Saturday June 11, opened with Schubert's Rondo Brilliant, a virtuosic tour de force that set the tone for the rest of the evening.
It was followed by Beethoven's 'Spring' sonata, which, as Tasmin explained, was pointedly billed by the composer as a 'Sonata for Piano and Violin'. Beethoven was himself a brilliant pianist, and the keyboard's role is as prominent as that of the violin throughout.
Part one of the concert ended with the first public performance of James Francis Brown's evocative composition 'The Hart's Grace'. This quintessentially English work was very warmly received and as a composer myself, I appreciated the delicate intricacies of the piece, which I found very moving.
The second half began with the Violin Sonata by César Franck, and once again, Tasmin had some entertaining background information for us.
Apparently, Franck wrote it as a wedding present for the virtuoso violinist, Eugène Ysaÿe, and presented it to him on the morning of his wedding. Undeterred by the short notice, the groom and a pianist friend duly performed it to the wedding guests that same afternoon.
The final item on the programme was 'Sahara', a piece I had originally written for solo guitar, and I must admit to being on tenterhooks since this was its premiere performance in a new arrangement for violin and piano.
But I needn't have worried: Tasmin and John performed it with the same flair they'd shown throughout and it was similarly well received by the audience.
Unsurprisingly, there were enthusiastic calls for an encore, which Tasmin and John dutifully answered with Brahms's Hungarian Dance No.5.
John Brunning, Classic fm, 18 June 2016
Tasmin Little with European Union Chamber Orchestra / Hans-Peter Hofmann
St Mary Magdalene Church, Taunton, Somerset, TA1 1SA
30th January 2016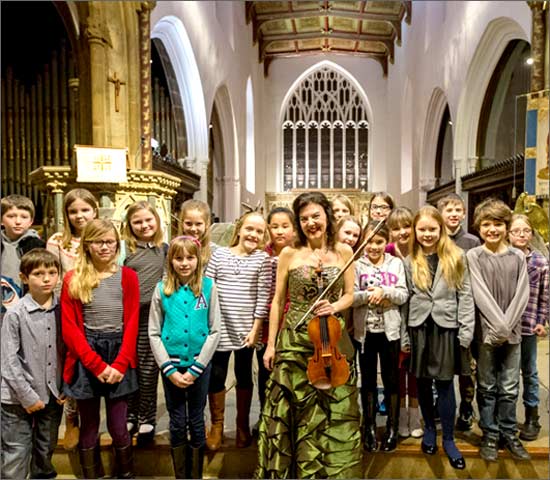 Tasmin and pupils from Bishop Henderson School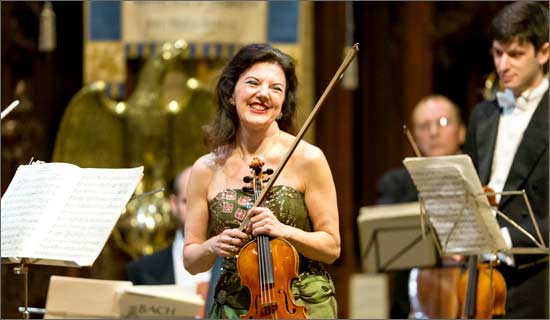 Deserved Applause: Tasmin Little

Tasmin triumphs in Taunton
OVER 100 local primary school children were in the packed audience when world-famous violinist Tasmin Little began her 2016 world tour at Taunton's St Mary Magdalene church last Saturday. The children, including a group from Bishop Henderson School (pictured), attended thanks to generous sponsorship from London music charity Orchestras Live.

Tasmin, who performs in iconic venues such as New York's Carnegie Hall and the Sydney Opera House, drew a 'sell-out' audience from South West England, which the organisers claim was Taunton's largest audience for a classical music concert since the closure of the Gaumont in 1982.

Joining Tasmin at St Mary Magdalene were the European Union Chamber Orchestra whose players are chosen from the 'cream' of musicians in each EEC member state. Directed by one of Germany's top virtuoso violinists, Hans-Peter Hoffman, the orchestra opened the concert with Bach's popular Brandenburg Concerto No. 3.
The applause that followed soon grew to a roar as Tasmin Little took centre stage in a dazzling, flowing emerald gown for the concert's centrepiece Mozart's Violin Concerto. Playing her Giovanni Battista Guadagnini violin, made in 1757, she stunned the audience with sheer brilliance and such world-class artistry that is rarely experienced in Taunton. The storming, standing ovation that followed was exhilarating.

"How do we follow that!?" the orchestra must have said to themselves during the interval. But they did, with an expert subtle mood change for spine-tingling performances of Grieg's Holberg Suite and Haydn's 'Passione' Symphony.

A world-class concert. Taunton must have more like this.